Choose the brand first when considering buying the top webcam for your machine. Because the best webcam brands can ensure the best quality ever. Branded webcam manufacturers may cost you a bit but you don't need to worry about reliability.
Nowadays face-time is a common daily-routine of most of the people who use the internet. The webcam that comes with a laptop as a built-in feature is the worst thing I have ever seen. Poor performance, low resolution, slowness are the most common features of the built-in laptop webcam.
I always recommend using a professional external webcam even in any personal communication. Otherwise, you cannot feel the taste of modern technology and the performance of the fastest internet. You may see the best RAM Brands.
After the invention of advanced webcams, the lifestyles of the office-workers or family members have changed drastically. Today the demand for a high-end webcam is so much that many brands have started to produce webcams to fulfill the hunger of the consumers.
That's why we have pulled out the best webcam brands in the market so that it can help you to learn some real information about these brands and it's reliability.
#Here is the top 10 best webcam brands in the world 2023
01. Logitech
Brand Rating: 9.1
Net Worth: $1.88 Billion
Brand Country: Switzerland
Founded: October 1981
Founder: Daniel Borel, Pierluigi Zappacosta, Giacomo Marini
Present CEO: Bracken Darrell
Headquarters: Lausanne, Switzerland, Newark, California
Products: Peripherals, Software
Employees: 7,000 People
Logitech is the best webcam brand in the world in 2023 that started its journey in America. For its innovative creation, the brand is highly recommended worldwide. Logitech first initiated producing webcams in 1995. One of the finest lines of the webcam is the QuickCam. Modified by Connectix, the Logitech webcams are leading in the market.
The best pick from this brand is Logitech C920S HD pro Webcam. It provides the best cover of the physical lens. With sharp and 3D picture quality Logitech HD Webcam C615 is another successful creation of this brand. The latest webcam is the StreamCam of this brand. The device was delivered in the month of February in 2023.
02. Microsoft
Brand Rating: 9.0
Net Worth: $2 Trillion
Brand Country: United States
Founded: April 1975
Founders: Bill Gates and Paul Allen
Present CEO: Satya Nadella
Headquarters: Redmond, Washington, United States
Products: Windows, Office, Servers, Skype, Visual Studio, Dynamics, Xbox, Surface, Mobile, software.
Employees: 182,268 People

Microsoft is considered the 2nd best webcam manufacturer in the world in 2023. Microsoft with its electronic treasures is still holding a great place among the top brands for making amazingly featured webcams. From the year 2006 to 2023 the brand is progressing to a great extent.
On 13 June 2006, the brand represented its first ever VX series LifeCam. Two webcams of the VX series got viral immediately. And after that, there was no coming back. VX-6000 and VX-3000 were on fire in the contemporary market.
Microsoft LifeCam Studio is the best and latest formulation of this brand. With 1080p resolution, this webcam is both ideals for home and business purposes. The webcam resembles a CCTV camera which is smaller than usual.
03. Razer
Brand Rating: 8.8
Net Worth: $1.6 Billion
Brand Country: United States
Founded: 1998
Founder: Min-Liang Tan, Robert Krakoff
Present CEO: Min-Liang Tan
Headquarters: Irvine, California, United States
Products: Keyboard, mouse, laptop, computer accessories, etc.
Employees: 1,451 People

Razer is one of the best webcam brands and widely popular for its advanced technology. The Razer brand is a great help for streaming enthusiasts who prefer gaming cameras largely. Razor Kiyo webcam is already so famous that it is coming with its upgraded version in the next year. The features of this webcam are perfectly depicted in the dingy rooms.
With full-on HD support, the Razer Kiyo webcam comes with 90 degrees of coverage. The twelve LEDs for the ring light illuminate a faddy room big time. The webcams of this brand are modeled after Stargazer. For capturing the audio, the brand offers a Seiren X mic.
04. Creative Technology
Brand Rating: 8.6
Net Worth: $200 Million
Brand Country: Singapore
Founded: July 1981
Founder: Sim Wong Hoo, Ng Kai Wa
Present CEO: Sim Wong Hoo
Headquarters: Jurong East, Singapore
Products: Multimedia, IT, Consumer electronics
Employees: 800 People

Creative Technology is a top webcam manufacturer till 2023. It is a multinational technology company from Singapore. The company is well recognized for its digital entertainment products they have been producing since 1981.
They offer webcams at affordable prices. The Cam Connect HD from the company stands out of all other products. Offering some of the great specifications it is compatible with windows 8! It has HD 720p video support and an auto lens focusing feature. Its built-in microphone boasts a noise-cancelling feature.
The Creative labs Webcam Notebook Camera with Clip also comes with a compact and very sleek advanced design technology and look. The webcams also arrive with a carrying case for extreme portability. With the ArcSoft bundled software the webcams have great video capture resolution.
05. Ausdom
Brand Rating: 8.5
Net Worth: $80 Million
Brand Country: United Sates
Founded: 2014
Founder: Not Founded
Present CEO: Not Founded
Headquarters: United Sates
Products: headphones, WebCams, Car DVR, Audio & Video products
Employees: 500 – 1000 People

Ausdom is considered as a top level webcam manufacturer till 2023. The journey of making webcams of the Ausdom brand was first inspired 10 years ago. Now the brand makes millions of webcams every year to satisfy its consumers.
With extreme warranty privileges, the brand ensures the great performance of the webcams. The brand offers qualitative webcams within the affordable price range.
AUSDOM AF640 webcam is the competitive one that is used for Laptops widely. With USB 2.0 connectivity, the model offers a dual microphone for the audio privilege. If you are searching for webcams under $100, the Ausdom brand will never let you down.
06. AVerMedia Technologies
Brand Rating: 8.2
Net Worth: $1.28 Billion
Brand Country: Taiwan
Founded: 1990
Founder: Michael Kuo
Present CEO: Michael Kuo
Headquarters: New Taipei City, Taiwan
Products: headphones, WebCams, Car DVR, Audio & Video products
Employees: 500 – 1000 People

The Taiwanese brand AVerMedia Technologies is a popular brand for its extraordinary production of Webcams along with some other audio-visual products and their designs. Since 1990, the company has been serving and still struggling to get on the top. Its Live Streamer 311 and Live Streamer CAM 313 are the little beasts you will want if you are a gamer.
The company's HD Webcam 310-PW3100 is an amazing one to recommend. With all the high-quality built-in features the webcam is always the right option to choose. The 1080p video resolution offers the finest detail possible. Delivering you trouble-free live streaming the webcams from AverMedia Technologies are great providers.
07. Looca
Brand Rating: 7.5
Net Worth: $30 Million
Brand Country: Greece/UK
Founded: 2015
Founder: Not Founded
Present CEO: Not Founded
Headquarters: Not Founded
Products: Not Founded

Looca is a very recent brand that has achieved immense popularity within a very short period. This brand from the UK is also producing the best webcams in the market. Hence, it exists in the list of best webcam brands. The company's very recent Looca 4K Ultra HD Webcam is ruling over the other ones.
With an easy installation, the webcam delivers extreme zooming. The Looca webcam offers a dual microphone for perfect hearing. You will not need any additional driver. You will see crystal clear through the cam even from up to 12ft distance which is a great deal!
08. Papalook
Brand Rating: 7.4
Net Worth: $40 Million
Brand Country: China
Founded: 2017
Founder: SHENZHEN AONI ELECTRONIC CO. LTD
Present CEO: SINGH, TEJBIR
Headquarters: SHENZHEN, China
Products: Webcam, IP Camera
Employees: 700+

With many ups and downs, Papalook is still maintaining its growth throughout the years. Though many of their webcams went completely down due to their lack of features, the brand manages to stand on its feet anyway. Papalook PA452 webcam is one of the flop webcams that left the brand devastated at first.
The next year of the devastation, the brand introduced their consumers to Papalook PA452 Pro. It was a huge turning point for the brand. With 1080P full HD resolution, this model fulfills all the requirements. The compression technology that the brand uses is efficient enough. For smooth videos and capturing the details, this H.264 technology affects deeply.
09. Amcrest
Brand Rating: 7.0
Net Worth: $100 Million
Brand Country: United States
Founded: 2013
Founder: Abdurahman Ravat
Present CEO: Abdurahman Ravat
Headquarters: Greater Houston Area, Southern, United States
Parent Organization: Foscam
Products: IP camera

Amcrest with its elegant design and robust features produces top-notch webcams. On December 31, 2019, Amcrest released the Amcrest 1080 webcam in the market. With 5 star ratings, the model was recommended worldwide. This model is compared mostly with Logitech C270i.
With 70degree coverage of the visual angle, this model possesses a more effective resolution than the Logitech C270i brand. The physical privacy cover of this model is outstanding. This American brand is soon extending its fame from western to the eastern area.
10. Aukey
Brand Rating: 7.7
Net Worth: $500 million
Brand Country: China
Founded: 2005
Founder: Lu Hichuan, Ze Huiyue
Present CEO: Lu Hichuan
Headquarters: China (Started in Germany in 2005)
Products: Webcam, power banks, wireless power banks, speakers, cables, audio products, etc.
Employees: 400-449 Staff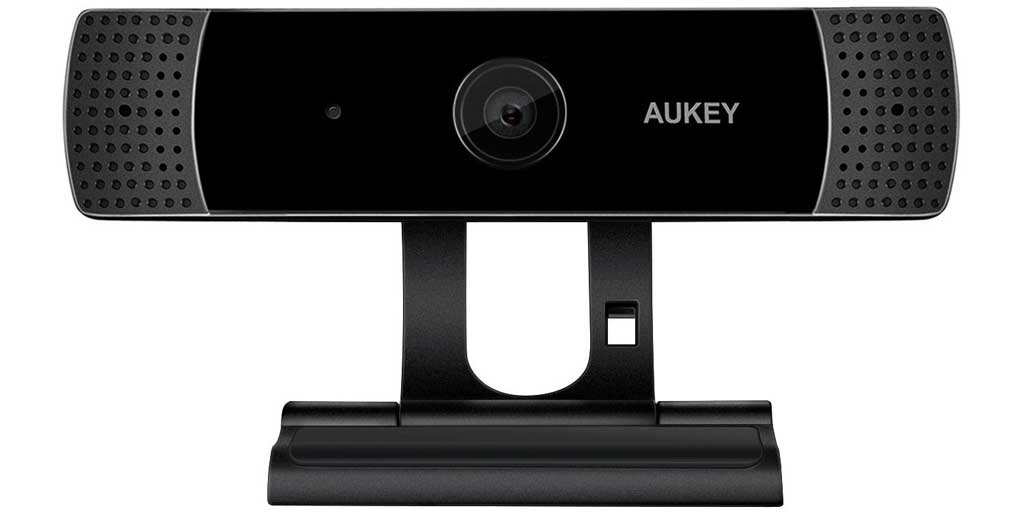 Aukey is one of the best chinese webcam brands in the world in 2023. It is a very recent company that started its journey in 2010. In that very year, Aukey launched its first webcam along with their other peripherals. The consumers responded hugely to that product. Including amazing auto-focus ability, the webcams of this brand come with sleek and modern design.
The company ensures sophistication and high performance of the webcams that go with the status of the modern world. With an advanced ring-light system and HD video resolution the AUKEY FHD Webcam is a top-notch collection of Aukey brands.
#Top 10 Best Webcam Brands in the World 2023
Logitech – Brand Country: Switzerland
Microsoft – Brand Country: United States
Razer – Brand Country: United States
Creative Technology – Brand Country: Singapore
Ausdom – Brand Country: United Sates
AVerMedia Technologies – Brand Country: Taiwan
Looca – Brand Country: Greece/UK
Papalook – Brand Country: China
Amcrest – Brand Country: United States
Aukey – Brand Country: China