Smart buyers choose the manufacturer first when taking a decision to buy a smart TV. Because the best smart TV brand can provide the best quality and reliability in 2023.
A home without a TV means a phone without a sim card. Over hundreds of years, people are known to this magic box called television. Nowadays we are in a smart generation and getting TV with better resolution, smart design, incredible clarity, exquisite sound quality, etc. You may also choose the best TV stands when buying a TV.
People are now in love with LED & OLED tv and they are too costly. That's why I recommend selecting the best smart tv brands before spending your money. Because not all the brands offer an intense building quality.
To make it easier I will show you a list of the top smart tv manufacturers in the world in 2023. It will make you understand which one will be the best choice for you.
#Here is the best smart TV brands in the world 2023 including company ranking
01. Sony
Brand Ranking: 8.6
Net Worth: $187.48 Billion
Brand Country: Japan
Founded: May 1946
Founder: Masaru Ibuka, Akio Morita
Present CEO: Kenichiro Yoshida​
Product: Consumer electronics, Semiconductors, Video games, Films, TV shows, Music, Computer hardware, Telecommunications equipment, Robots
Headquarters: Sony City, Minato, Tokyo, Japan
Employees: 109,700 People
SONY is the best smart TV brand in the world in 2023. SONY itself is a brand. It is still considered the most reliable tv brand in the world. To find out the best smart tv brands the company Sony nails down the 1st place.
This very reputed and well-recognized electronic company has been producing some of the best smart TVs for years. Along with the LED TVs, the company manufactures few amounts of OLED TVs. Offering both the IPS panel and VA features the TVs have a well contrast ratio.
The Sony X950G and the upgraded feature the Sony X950H, both are counted as the best with color accuracy. With the integrated Android TV feature, Sony smart TVs are easy to control. The Sony A8H OLED offers a great reflection handling and picture quality. Overall, a Sony smart TV is always a great choice.
02. LG
Brand Ranking: 8.6
Net Worth: $24.214 Billion
Brand Country: South Korea
Founded: 5 January 1947
Founder: Koo In-hwoi
Present CEO: Dong-Su Kim
Products: Televisions, Mobile devices, computers, monitors, Smartwatch, etc.
Headquarters: LG Twin Tower 128, Yeouido-dong, Yeongdeungpo District, Seoul, South Korea
Employees: 75k People

Manufacturing the first OLED TVs, LG is 2nd the best smart tv brand in the world in 2023. LG is an internationally popular company and the top class smart TV manufacturer. Making a huge revolution, the LG brand's TVs are now at the top position.
Offering an incredible perfect ratio, the smart TVs are able to turn off the Pixels. The newer models of LG like the LG CX OLED come with higher-end features. To decline the screen tearing, the models are equipped with HDMI Forum VRR.
The Logo Luminance Adjustment and pixel refresher are two of the best features with what the LG OLEDs are designed for. The LG SM9500 and LG NANO85 are the LG's IPS featured TV. With a wide variety of sizes, the LG smart TVs are also featured with the WebOS operating system. To control with ease, the TVs come with a magic remote.
03. Samsung
Brand Ranking: 8.5
Net Worth: $500 Billion
Brand Country: South Korea
Founded: 1 March 1938
Founder: Lee Byung-Chul
Present CEO: Kim Ki Nam
Products: LCD and LED panels, mobile phones, memory chips, NAND flash, solid-state drives, televisions, laptops, monitors, etc.
Headquarters: Seocho District, Seoul, South Korea
Employees: 309k People

Providing all shorts of upgraded features the brand Samsung can be your first choice of smart tv manufacturer. Nowadays we cannot think about smart tv displays without the Samsung tv brand. No doubts, Samsung is in the best position of Display manufacturing.
Along with their manufacturing of monitors, smartphones, fridges and other electronic products, the company also produces some of the best QLED TVs. Whereas the LG's OLED TVs have permanent burn-in issues the Samsung QLED TVs decline it all.
For amazing gaming performance, the Samsung TVs are always in the first row. The Samsung Q800T QLED comes with higher built-in features using mainly the VA panels. The Samsung Q90T QLED comes with some extra offering an ultra viewing angle. Samsung's TizenOS system is also used in its smart TVs offering tons of apps to download.
04. Sharp
Brand Ranking: 8.5
Net Worth: $11.464 Billion
Brand Country: Japan
Founded: September 15, 1912
Founder: Tokuji Hayakawa
Present CEO: Tai Jeng-wu
Product: Televisions, audiovisual, home appliances, information equipment, ICs, solar cells, mobile phones, fax machines, electronic components, calculators, LCD panels, etc.
Headquarters: Sakai-Ku, Sakai, Osaka Prefecture, Japan
Employees: 52,876 People
Parent Organizations: Foxconn

Sharp is the best smart tv brand in 2023 when considering the reliability. Sharp has the reputation of long lasting performance than any other brands in the market.
Earlier in 1950, the company Sharp was the first manufacturer and seller of the Japanese made TVs. Then Sharp nailed down the TV market with the first ever 8K TV.
Some of Sharp's Q-series TV sets are the best with integrated features. With an in-built google assistant voice controller, the TVs run easily. The Q8000U and Q7500U with the HDR10 feature are the 4K sets.
With the HDR supporting, Dolby vision and 4K resolution the Sharp smart TVs are great deals to have. The Sharp LC-50LBU711U and the Sharp LC-55LBU591U are also some of the great choices. The full HD BG2 and BE0HD have great building features.
05. Hitachi
Brand Ranking: 8.5
Net Worth: $44.32 Billion
Brand Country: Japan
Founded: 1910
Founder: Namihei Odaira
Present CEO: Toshiaki Higashihara
Product: Electronics, Television, Industrial machinery, Telecoms equipment, Power plants, Information system, Materials, Auto parts, Power tools, Elevator & Escalator, Defense technology, etc.
Headquarters: Marunouchi, Chiyoda-ku, Tokyo, Japan
Employees: 380,714 People

Hitachi smart TVs are also on the horizon of being the best tv manufacturer. Along with the Hitachi refrigerator, Ac and other domestic appliances, Hitachi TVs are also worth keeping in your home. The Hitachi 55RH1 HDR Roku Smart LED TV till now hits the most. Hitachi TVs have a high dynamic range and all mobile apps support.
With the 4K HDR, the TV has 120 Backlight frequency. The Hitachi 50Z6 LED TV and Hitachi 22E30 Class FHD are also considered wonderful TV models from Hitachi. With higher built-in features and quality, the TVs are great.
06. Panasonic
Brand Ranking: 8.4
Net Worth: $36.56 Billion
Brand Country: Japan
Founded: March 13, 1918
Founder: Konosuke Matsushita
CEO: Kazuhiro Tsuga
Product: Television, video projector, digital camera, DVD player, home appliance, laptop, rechargeable battery, software
Headquarters: Kadoma, Osaka, Japan
Employees: 259,385 People

Panasonic is one of the top class smart tv producers in the world 2023. Panasonic as a brand first revealed its journey to produce televisions in 1952. It was a black and white television set. Later, they came up with a color-television in 1960.
At first, the brand started to deliver televisions to the U.S. consumers and later by 1969 it soon expanded the business throughout the whole European country.
By importing screens from the best brand LG, the Panasonic brand then adds their own operating system, speakers and full set-up panel. However, the brand with great response, launched its latest model Panasonic HZ2000 4K OLED television. It comes with two different sized screens for the advantage of the consumers.
07. Philips
Brand Ranking: 8.3
Net Worth: $16.69 Billion
Brand Country: Netherlands
Founded: 15 May 1891
Founder: Gerard Philips and Anton Philips
Present CEO: Frans van Houten
Products: Electronics, Audio system, Lighting, Medical equipment.
Headquarters: Amsterdam, Netherlands
Employees: 81,592 People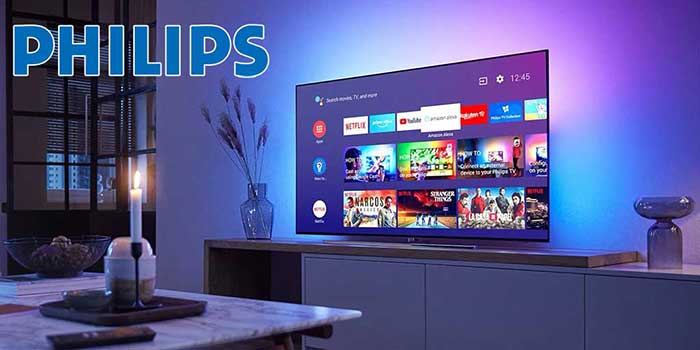 In manufacturing the best audio-visual technologies the brand Philips always tops the position. From a look of the Philips 2023 TV lineup, we get to be sure of its latest TV features. 2019's model the Philips 804 Series OLED TV comes with an Ambilight. The model is featured with the OLED panel and has a great HDR capability.
With the 3rd generation P5 processor the smart TV from Philips is equipped with Android TV Smart Software. The Google assistant is also designed for voice control. Using the Philips IoT devices the Philips TVs play nice. There are also many newer models to see in the Philips 5-Series.
08. Toshiba
Brand Ranking: 8.2
Net Worth: $25.58 Billion
Brand Country: Japan
Founded: July 1875
Founder: Tanaka Hisashige (for the Tanaka Seisakusho line)
Present CEO: Armand Dupreez​
Product: Electronics, Semiconductors, Social infrastructure
Headquarters: Minato, Tokyo, Japan
Employees: 141,256 People

The Japanese company Toshiba is serving its customers for eight decades or more. Producing some of the highest quality technological appliances, the brand is quite famous for its smart TV manufacturing. Taking your living room to a whole new dimension, Toshiba's 32LF221U19 Smart LED TV is the best choice anyone can make.
With the 720 pixel quality, the TV comes in a 32-inch size. With an RF antenna, HDMI input support, Ethernet port, USB port and everything else the TV is great. The Toshiba 43LF621U10 4K Ultra HD Smart LED TV is also the one with the best graphics and pictures.
09. Vizio
Brand Ranking: 8.2
Net Worth: $2 Billion
Brand Country: United States
Founded: October 2002
Founder: William Wang
Present CEO: William Wang, Laynie Newsome, Ken Lowe
Product: OLED TV, 4K UHD TVs, LCD TVs, LED TVs, sound bars, surround sound systems, QLED TV.
Headquarters: Irvine, California, United States
Employees: 527+ People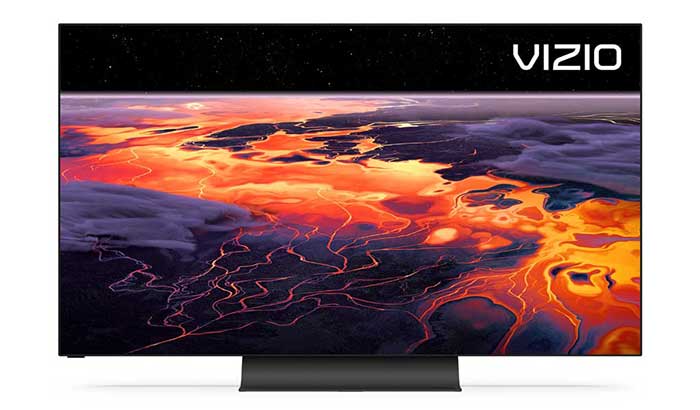 To find the best smart TVs at an affordable price the brand Vizio comes to mind automatically. The V-series TVs of the Vizio brand are some of the low-pricey yet high-quality TVs. With decent picture quality, the company uses HDR support that is better-than-average. Offering LCD types the Vizio V-Series (V505-G9) TV comes with a size of 50-inch.
With the integrated Google Chromecast, the Vizio smart TVs are well compatible with the Alexa speakers or any Google home speakers. The Vizio M-Series TVs are the latest products and these are some of the premium ones with better picture quality. The TVs are featured with SmartCast for easy access to Youtube, Netflix, and other platforms.
10. TCL
Brand Ranking: 8.1
Net Worth: $14.42 Billion
Brand Country: China
Founded: 1981
Founder: Li Dongsheng
Present CEO: Li Dongsheng
Product: Television sets, smartphones, mobile phones, air conditioning, washing machines, refrigerators.
Headquarters: Huizhou, Guangdong, China
Employees: 35,379 People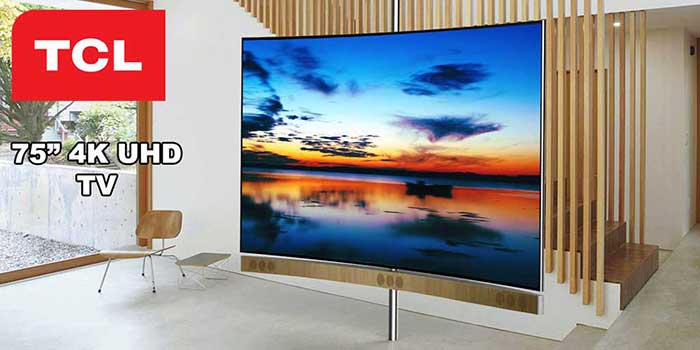 TCL is another best brand that produces some of the best smart TVs. Till now the company has offered many models with different screen sizes and features. Featuring the QLED type the company's TCL 6-Series Roku TV R625 is one of the best that is way affordable than other branded smart TVs.
The Roku TVs that are offered by the TCL are equipped with a familiar and great TV interface. It confirms easy access to high streaming platforms. Though the brand doesn't offer some of the higher-end and advanced designs yet, the smart TVs of this brand have a great value.
11. Hisense
Brand Ranking: 7.8
Net Worth: $10 Billion
Brand Country: China
Founded: September 1969
Founder: Zhou Houjian
CEO: Zhi Tao Yu
Product: Mobile phones, smartphones, televisions, air conditioners, refrigerators, washing machines.
Headquarters: Qingdao, Shandong, China
Employees: 39,500 People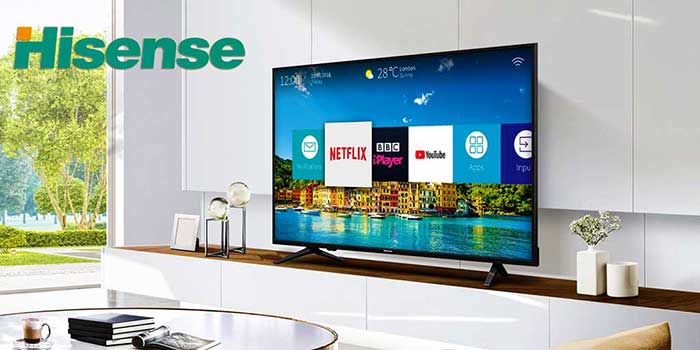 This multinational Chinese brand started to make televisions officially in 1969. The brand is popular mostly because it provides the best quality products to make topnotch color television. Hence, it won national honors in the year 1984. CJD18 television was the first creation of the Hisense brand.
With overall examination, we found Hisense 55H9G 55 inches 4K android tv is the best collection of this brand. It offers you a ULED panel. With the high HDR screen and updated chipset, the television is still leading the market. It can be operated with your voice by connecting to the Google assistant.
12. Sceptre Incorporated
Brand Ranking: 7.5
Net Worth: $25 Million
Brand Country: United States
Founded: 1984
Founder: Gail O'Dell Collins
Present CEO: John Dunton
Product: LCD TV
Headquarters: California, United States
Employees: 106 People

Sceptre Incorporated is a very popular brand because of their smart televisions and their LED, 4k or LCD displays. Besides selling solid computer monitors, this brand is professional in dealing with high-featured smart TVs as well. Though the brand started its journey in 1984, it also lacks some ways to provide a smart platform for television consumers.
Despite all the deficiency, the brand never fails to appease its customers. With high-defined picture quality and easy operating system, Sceptre 55-inch 4K LED TV is considered as the best model of the Sceptre Incorporated brand.
13. Polaroid Corporation
Brand Ranking: 7.5
Net Worth: $3.6 Billion
Brand Country: United States
Founded: 1937
Founder: Edwin H. Land
Present CEO: Scott W. Hardy
Product: Instant cameras, Instant film, Digital cameras, Action cameras
Headquarters: Minnetonka, Minnesota, United States
Employees: 3,000 People
Parent Organizations: Polaroid Originals, Petters Group Worldwide

With a lot of ups and downs, Polaroid Corporation is still holding the flag of making high-end televisions. The company was founded in 1937. It produced quality cameras and films from the very beginning of its pathway. And later on, the brand started to produce budget-friendly LED television sets.
However, Polaroid shares the same position as the Hisense brand. Polaroid P55D600 55-inch smart tv set is the latest model that got revealed this year. The television set offers an affordable price. With less expectation and a Polaroid screen facility, the users can operate the tv for many years.
14. Skyworth
Brand Ranking: 7.4
Net Worth: $4 Billion
Brand Country: China
Founded: 1988
Founder: Huang Hongsheng, Stephen Wong
Present CEO: Zhang Xuebin
Product: Televisions, Set-top boxes, A/V security products, mobile phones, auto electronics, and precision dies
Headquarters: Shenzhen, Guangdong, China
Employees: 30k People

From the foundation in 1988, the Skyworth brand is trying relentlessly to develop its electronic products. By the year of 2010, Skyworth was considered the best ten TV brand. It used to be the best color tv brand in the Chinese market. With optimum audio and video quality Skyworth provides 10W+10W audio boxes with the TV.
Skyworth M20 LED smart TV has got the highest recommendation from the consumers for its ultra features. Contemplating on the superb design, this brand offers four unique side thin bezels. This technique enhances the beauty of the TV even when it is powered off.
15. Haier
Brand Ranking: 7.0
Net Worth: $16.3 Billion
Brand Country: China
Founded: 1984
Founder: Zhang Ruimin
Present CEO: Zhang Ruimin
Product: Major appliances, Small appliances, Commercial heating and cooling systems, Consumer electronics
Headquarters: Qingdao, China
Employees: 16,775+ People

This Haier brand, from China, has a very competitive and arguable standard in the case of producing smart TVs. Though the brand started its journey less than 35 years ago, it is now supplying its smart TVs in several continents including Europe, Asia, and in the middle-east countries as well.
Haier LE50U6900HQGA 50 inch UHD Smart LED tv has the best picture quality. This model of the Haier brand comes with a convincing display and Google assistant operating system. With a budget-friendly range, the Haier brand is the best choice for middle-class families.
16. Westinghouse
Brand Ranking: 7.0
Net Worth: $37.29 Billion (ViacomCBS)
Brand Country: United States
Founded: January 8, 1886
Founder: George Westinghouse
Present CEO: George Westinghouse
Product: Televisions, radios, audio/video equipment, etc.
Headquarters: New York City, New York, United States
Employees: 9,000 People
Parent Organizations: ViacomCBS

Though Westinghouse is an American brand, it is possessed by the Chinese manufacturer. The brand is a newbie as it got established only 10 years ago. The progression of the brand in television-making went high in 2012. It was then when the brand launched the ultra HD smart televisions.
However, Westinghouse-55" WD55UB4530 Class-LED super smart television set is the best model of this brand. It is leveled with 4K. It has a quick-start operating system. Overall, this model provides comfort to a great extent.
17. C Seed
Brand Ranking: 7.0
Net Worth: $20 Million
Brand Country: Austria
Founded: 2009
Founder: N/F
Present CEO: N/F
Product: N/F
Headquarters: Austria
Employees: N/F

Since the year 2009, the C Seed brand has been involved in evolving great electronics and smart TVs. Already the brand has won a bunch of awards for handing over quality electronics to its consumers. It introduced us to the largest screen TV.
In the year 2013, the brand revealed its first smart TV. The model soon changed the past history of making smart television. The five-meter wide LED TV screen had an alluring appearance. The bright display and picture resolution were topnotch.
18. RCA
Brand Ranking: 6.8
Net Worth: $88 Billion (GE)
Brand Country: United States
Founded: October 17, 1919
Founder: Guglielmo Marconi, David Sarnoff, Owen D. Young
Present CEO: Owen D. Young
Product: Televisions, Radios, Vacuum tubes, Phonograph records, Electric Phonograph, RCA Photophone, CED Videodisc, etc.
Headquarters: New York City, New York, United States
Employees: N/F
Parent Organizations: General Electric, Technicolor SA

As the oldest brand, the RCA is still holding the ancient reputation year after year. This American brand has crossed almost a century. Now the brand is being conducted under the Technicolor brand. Many people still think of RCA as the best old brand that provides compatible smart TVs.
RCA 55-inch Smart LED TV has got the highest attention from the people because of its clear audio and large screen facility. It is set up with a great housing and operating system. No trouble with blur pictures. Also, no tension of discoloration.
19. JVC (Victor Company of Japan, Ltd.)
Brand Ranking: 6.7
Net Worth: $36.56 Billion (Panasonic)
Brand Country: Japan
Founded: September 13, 1927
Founder: Panasonic
Present CEO: Shoichiro Eguchi
Product: Audio, visual, computer-related electronics and software, media products
Headquarters: Yokohama, Japan
Employees: 19,044 People
Parent Organizations: Panasonic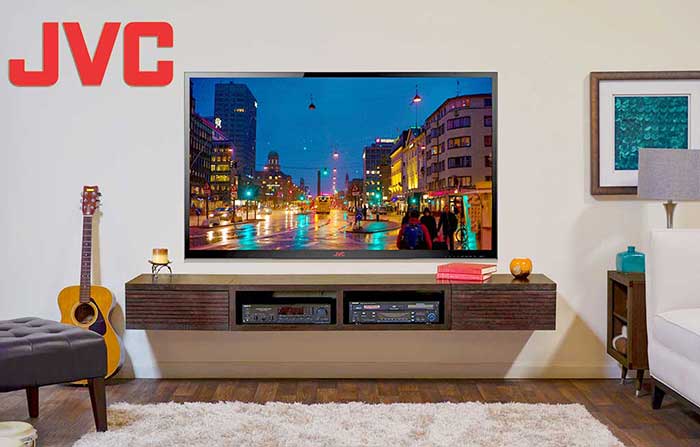 The Japanese company JVC is also famous for its audio-visual creation. Since 1927, the company has offered its different creations to its customers. For the better picture quality feature and ease of control, the company is respected. The Final Fantasy XIII PS3-Black Label is the best one hitting the market.
Again the JVC- LT- 43MAW588 also comes with a 43inch size and 4K UHD. Offering the best price value, the JVC 50inch Class 4K UHD HDR is also a great choice.
20. Xiaomi
Brand Ranking: 6.5
Net Worth: $24.10 Billion
Brand Country: China
Founded: April 2010
Founder: Lei Jun
Present CEO: Lei Jun
Products: Mobile phones, IoT products
Headquarters: Haidian District, Beijing, China
Employees: 33,427 People

Last but not the least, the brand Xiaomi is also getting TVs to its buyers with some of the special features. Within a very short time, the company has managed to satisfy its customers with great quality smart TVs. The Xiaomi Mi LED Smart TV 4 is recognized as one of the best coming closer to the flagship experience.
However, the Xiaomi Mi LED TV 4X Pro is considered arguably the best one. It has audio IO ports, USB, and HDMI ports. Offering a selection option between Android TV and PatchWall interface, the Xiaomi TVs can never go wrong.
#To 10 Smart TV Brands in the World 2023
Sony – Net Worth: $188.91 Billion
LG – Net Worth: $27.15 Billion
Samsung – Net Worth: $86.7 Billion
Sharp – Net Worth: $13.25 Billion
Hitachi – Net Worth: $51 Billion
Panasonic – Net Worth: $36.56 Billion
Philips – Net Worth: $18.76 Billion
Toshiba – Net Worth: $25.58 Billion
Vizio – Net Worth: $2 Billion
TCL – Net Worth: $14.42 Billion